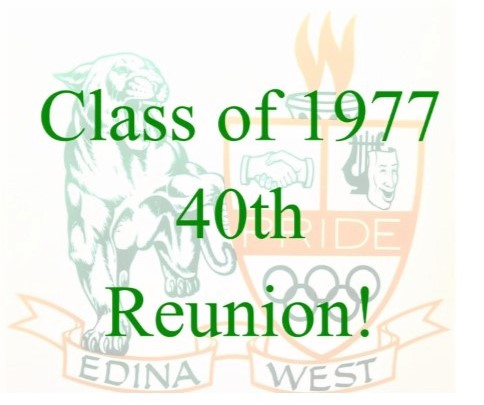 Welcome to the Edina West Class of 1977 Website!
The Edina West 40th Reunion is on and all aspects of this website are LIVE!
If you should have any dificulty with this site, please Contact Us!
Head on over to Register for the 40th Reunion and sign up. We are accepting Credit Cards and Checks.
We actually prefer checks inorder to avoid the processing fees, but CC's are just fine.

Consider a Gift, to assist those who would like to come but may need some assistance.
Also, you have the ability to book your hotel if you need or want one. I know a number of locals will be getting a room, so don't wait
if you want to stay at the event site. HILTON BLOOMINGTON 3900 West American Blvd. Get em, while they got em available!
Nudge any an all classmates that you are in contact with and or know of their whereabouts and ask them to update their profile
page as the invitations will be going out. We need as many good addresses as we can get.
Take a glance at the list just to the right of or below this and peek at who's updating their info, don't be shy folks.
Please send them a link to this site www.edinawest77.com
Cheers to a successful 40th and hope to see everyone there!
This is a casual event, it's not about what you wear, it's about your presence!
If you have any questions, click on the 40th Reunion Committee page and direct your question to a committee member of your choice.

You can also follow us at Edina West 77 Facebook