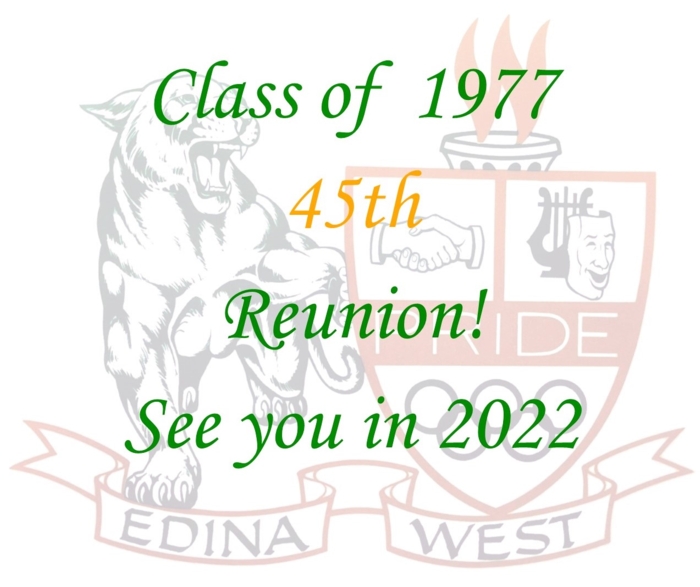 Welcome to the Edina West Class of 1977 Website!
If you should have any difficulty with this site, please Contact Us!

Look for links to REUNION Pictrures in the days to come.
We are missing three names of attendees, is one you?
169 Classmates - 23 Guests - 192 actual count
So if you showed up and paid cash at the door, we may not have written down your name.
if you don't see your name in the Who's Was There simply click here and let us know..
DO YOU have pictures from any part of the 40th Reunion event... WE want them.
Email your pictures to matt@matttourangeau.com or dkaiser1@mac.com
or load them directly to this site... see event pictures

Check out Who's Was There?
Check out Who Golfed?
Thanks to all those who showed up at BUNNY'S Friday night!
HEY YOU!
Do you know someone who missed the 40th REUNION that you would have wanted to see?
(Unclaimed Profile)
(Missing Information)
Please copy and paste (www.edinawest77.com) into an email to those you know of their whereabouts.
If you have any questions, click on the 40th Reunion Committee page and direct your questions to a committee member of your choice.

You can also follow us at Edina West 77 Facebook

NONE of your information is shared with others, the only people who have access to addresses, emails & phone #'s are are those with admin capabilities. Thats it!

POST ANOUNCEMENT
ANNOUNCEMENTS
On behalf of our entire committee we want to thank each and everyone of you for coming home to our reunion.
Our class spirit seems to grow with each Reunion.
YOU made the reunion a huge success that exceeded anyone expectations. Your presence is what everyone comes home to see.
Standing up on that stage I notice something rather unique in this electronically distracting world, that nothing could distract you from your face to face connections.
Not the music, the videos, the food, not even even time.
Even our attempt to get your attention to say a few words of thanks with the aid of an amplified microphone proved to be secondary to what you were doing.
The only time a phone was used was to take pictures or share them with classmates that couldn't make the journey home.
For over 7 hours I watched people that used to walk past each other in our crowed school halls years ago without saying a word to others, actually seek out many of those same people to spend time with them in our equally but not quite crowed reunion.
Every reunion we plan for many ways to entertain each other. When really all we desire is time together.
I like others fought off fatigue with a surge of energy fueled by this gift of having this time to be together.
People came out of the blue to help us set up and tear down and even a one classmate took time to provided us with hand made thank you cards and another took up an on the moment task to gather your information to make sure we can find you.
Being on this committee gave me time to reflect and gain new perspectives by listening with the intent to understand. This was a most humbling experience.
Our committee never lost respect for the other, nor the intent of our gathering. Which was to proved a safe, fun venue to connect after all these years.
By early estimates because I could not keep up with writing the names of the walk ins that paid cash, we had well over 220 in attendance.
Let's say that is the number out of a class of 536.
That means 316 classmates missed out and please know it was not because we did not try to find them.
From my heart to all my classmates I hope you all claim your pages if you have not on www.edinawest77.com and encourage others to as well.
Please remember that this is a very secure site that serves as a classmate only place to connect and go to when the next committee begins their quest to find you for another gathering. Heck you can even post your pictures here for OUR eyes only.
Lastly, if we are lucky we age on the outside yet tucked inside of us are all of our youths that by being together we get to bring back out to get caught up with others.
On a very personal note I like maybe many others suffered deeply all those years ago and by the grace of God I am in a very different place.
I shared that for two reasons.
1. Please lean on others if you need it. https://youtu.be/MYI0AoXlOwE
2. We all will pass someday and I hope YOU do your best to share what you want to unconditionally because that is where God loves to hang out.
Lastly let's remember those no longer here.
CLICK THIS: https://animoto.com/play/pNbuCh223WpYWEuNv1DN8w
TO REMEMBER all our fellow classmates who have passed on and give thanks for our day today!!!
From all of us to all of you THANK YOU for a blessed evening!!!
We love you