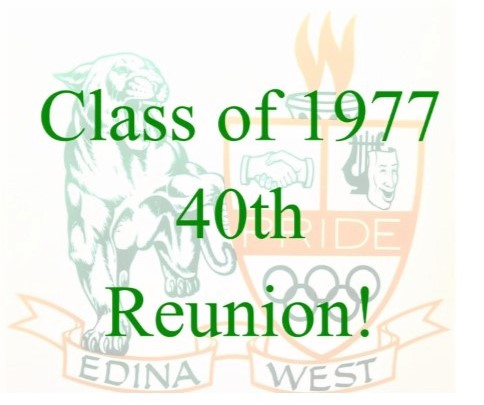 Welcome to the Edina West Class of 1977 Website!
The Edina West 40th Reunion is on and all aspects of this website are LIVE!
If you should have any difficulty with this site, please Contact Us!
Head on over to Register for the 40th Reunion and sign up. We are accepting Credit Cards and Checks.
We actually prefer checks in order to avoid the processing fees, but CC's are just fine.

Consider a Donation , to assist those who would like to come but may need some assistance.
Also, you have the ability to book your hotel if you need or want one. I know a number of locals will be getting a room, so don't wait
if you want to stay at the event site. HILTON BLOOMINGTON 3900 West American Blvd. Get 'em while they got 'em available!
Also if you would like to hang at the Mall Of America we have some rooms at the JW Marriot.
Invitations are out! Our next process will be to track down the bounce backs and resend invites to those people.
Please check the following links for (Unclaimed Profile) We need your help to find these individuals....(Missing Information)

Nudge any and all classmates that you are in contact with and or know of their whereabouts and ask them to update their profile.

Check out Who's Coming?
Check out Who's Golfing?
Cheers to a successful 40th and hope to see everyone there!
This is a casual event. It's not about what you wear, it's about your presence!
If you have any questions, click on the 40th Reunion Committee page and direct your questions to a committee member of your choice.

You can also follow us at Edina West 77 Facebook

You also have the ability in your profile page to hide yourself so others do not know you're on line. NONE of your information is shared
with others, the only people who have access to addresses, emails & phone #'s are are those with admin capabilities. Thats it!
ANNOUNCEMENTS
Thoughts by Danny Kaiser

As I walked the halls of the our school several weeks ago taking pictures for our 40th reunion, it obviously reminded me of times long ago but it also did something else.

It made me think of people I had not seen since high school and some of them were people I would see everyday during a class we shared or a homeroom or a school activity we had together.

That one-on-one connection in a digitally distracted Facebook world is why I go.

I look forward to seeing people I use to know and hope they are there, and wished they were, if they are not.

As an example I sat next to someone in homeroom that I would love to reconnect back up with that I have never seen at a reunion.

So now that I find myself on this 40th reunion committee, I thought it would be a good time to share just a few of my experiences from a past reunion.

At the 35th reunion near the end of the night I found myself in a deep conversation with someone I knew by name and face but not much else back in school.

That night we connected on some life experiences that built a respect that reminded me we all had shells on to protect us back in school and the older we get the shells break away and enable us to experience the other in a genuinely authentic face to face moment.

I so hope to see her again if just to hug and say thanks.

Also I had hoped to see so many I have gotten to know in our Facebook world that time did not permit and I had wished I could add time to the clock or that this could have been an all night event to find them and say hi.

Every reunion I hear from someone who is attending for the first time that says they wished they had come to earlier ones and are already looking forward to the next one before that reunion is over

I have attended most of our reunions not because I was big in school spirit or that high school was full of amazing memories, no I attend simply to see a huge chunk of all the people that I grew up with and it gives a sense of being home. dorky as that may seem it is true.

When reaching out to classmates to invite to our party this July 29th And occasionally hear someone say they did not like school all that much or have many friends why go to a reunion?

I hope this might help change some minds of anyone that has never attended a reunion because you will be experience moments that can only happen FACE TO FACE and reconnecting with many or even just one person that we once knew or get to meet for the first time.

As one of many hosts for this years reunion let me welcome all to our event that have paid and registered and assure you that we are taking great steps to makes sure we are well fed, entertained with visual reminders of our youth, and plenty of time to get caught up on where we are.

Someone said to me at the last reunion something that I think of all the time.

In our life continuum, if we live to a healthy age of 80, we are at the short end of this continuum. Best we go make some more moments that matter!!!